Hazmat ELDT Online Training
What other Hazmat ELDT online training course utilizes computer animations to teach proper techniques, skills and procedures? None other than Elite ELDT! Our students DO NOT have read through pages and pages of words….just relax, watch & learn!
Throughout each training module, multiple choice questions and learning exercises will be presented to the student. These must be answered correctly in order to progress through the course. If the question is answered incorrectly, the student will be taken back through the previous section of the course then presented with the same question again. This delivery method allows students to pass our ELDT hazmat training online course WITHOUT the need to take a final exam.
Unlike our other online ELDT courses, this hazmat ELDT training does NOT require any behind-the-wheel training! This ELDT hazmat course and a background check are all you need to get a hazmat endorsement on your CDL!
Warning!
Due to the increased danger involved in hauling hazardous materials, YOU CAN MAKE MORE MONEY with a hazmat endorsement!
Learn more so you can earn more! Enroll today!
Have questions about this ELDT hazmat course, just give us a call! 706-892-7550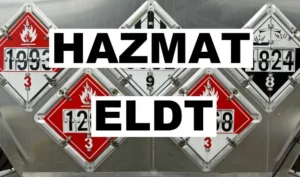 ELDT Hazmat Course Now Just $99!
NEW LOWER PRICE! This course takes about 4 hours & applies to driver-trainees who intend to operate a CMV used in the transport of hazardous materials (HM) as defined in 49 CFR 383.5. This includes even experienced drivers. Sometimes the term "Entry-Level Driver Training" can be misleading for those that have several years of experience driving a CMV, however in this case it applies to all who are getting a HME for the first time.
As stated in the FMCSRs, Hazmat theory training covers material under the following topics: Basic Introductory HM Requirements, Operational HM Requirements, Reporting HM Crashes and Release, Tunnels and Railroad (RR)-Highway Grade Crossing Requirements, Loading and Unloading HM, HM on Passenger Vehicles, Bulk Packages, Operating Emergency Equipment, Emergency Response Procedures, Engine(Fueling), Tire Check, Routes and Route Planning, and Hazardous Materials Safety Permits.